John P Erwin, III, MD, FACC, FAHA, FACP with guest blogger Suzi Erwin (my MUCH better half!)
A couple of weeks ago, I began a foray into the blogosphere to give another perspective on the battle against obesity– one that was completely personal. I am now 4 days post-op from my gastric sleeve procedure and wanted to give a bit of an update on the first-hand account of surgery and the immediate post-op phase. This entry will be less of a blog than a journal of events from the my own perspective and from that of my wife, Suzi.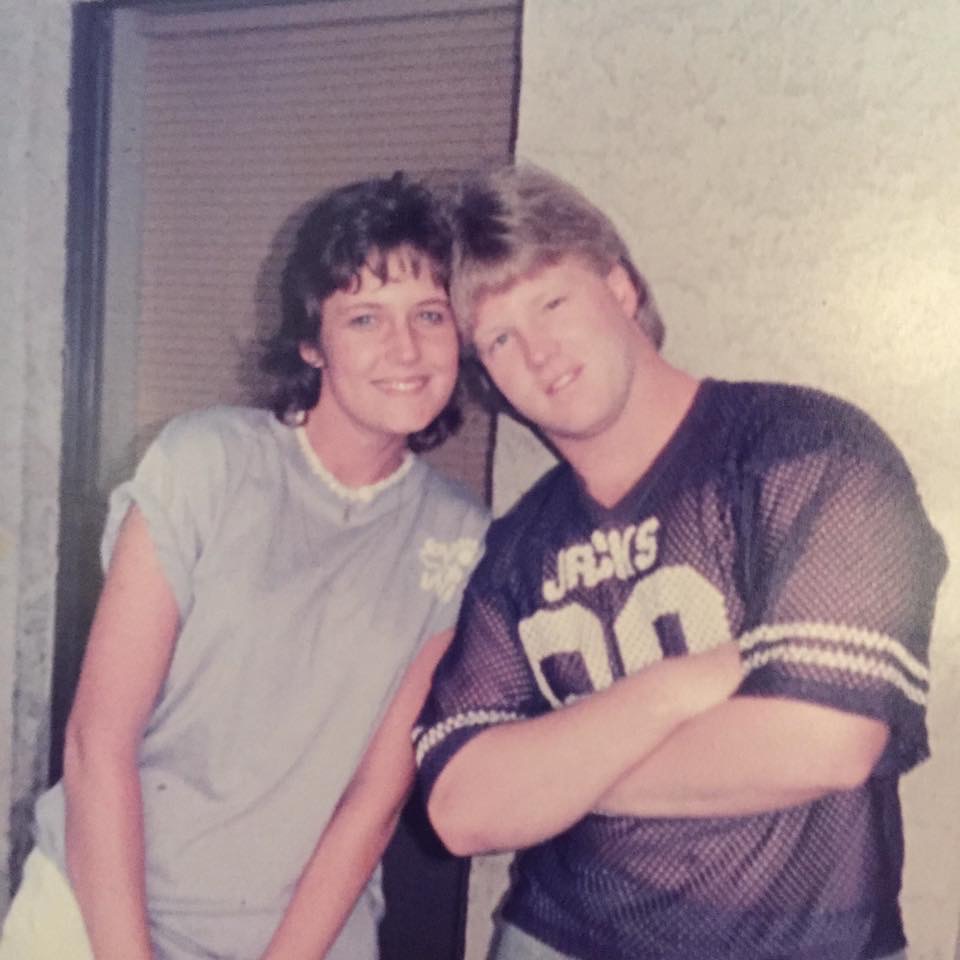 Surgery day
John
I had a pretty easy day. A very nice nurse sheared my belly of the fur I've been cultivating there since my late teens. I was then given an interesting cocktail in my vein and my friendly anesthesiologist had me take several deep breaths through a mask. The next thing that I knew, I was in the post-acute care unit being told that my surgery was over and that everything went well. Pain was minimal aside from those times that I coughed or tried to change positions too quickly. I was moved shortly after to the surgical floor where I went straight from gurney to the chair and got started on my new job which was to drink 1oz of fluids every 5 minutes, suck air out of an incentive spirometer, and get up and walk as much as a I could. I did receive some pain meds about once every 4 hours but did not have any significant breakthrough pain. I sent my wife home so that she could get a good night's rest.
Suzi
Given that my tendency is to be a "worrier", John has spent the past several months making sure I was prepared for this day. I'm not in the medical field, but I've attended lectures on all the types of bariatric surgery that included everything from best-case to worst-case scenario patient outcomes and I've watched actual gastric-sleeve surgery videos performed by specialists at various institutions. Knowing John's ability to "get in shape when he puts his mind to it", his coming to the conclusion that surgery was the answer this time might have been the hardest part for me. My husband is very competitive, and I've watched him lose 50, 60 & 100 lbs at will. When he's in that mode, it feels like, 'THIS time it's forever!'
To give an idea of what it takes to derail his lifestyle-based weight loss, here are some examples:
Avulsed bicep – watersports related injury
Torn Rotator Cuff and shoulder labrum – Weight Room Related
Hip (Torn iliopsoas muscle) – Marathon
Back – Intense (seriously intense) Interval Training with 30 year old MMA fighter
Just like with his dramatic weight loss, his turning point was always just as dramatic. His high activity level during his low weights still allowed for high calorie intake, therefore, the cycle was even harder to break.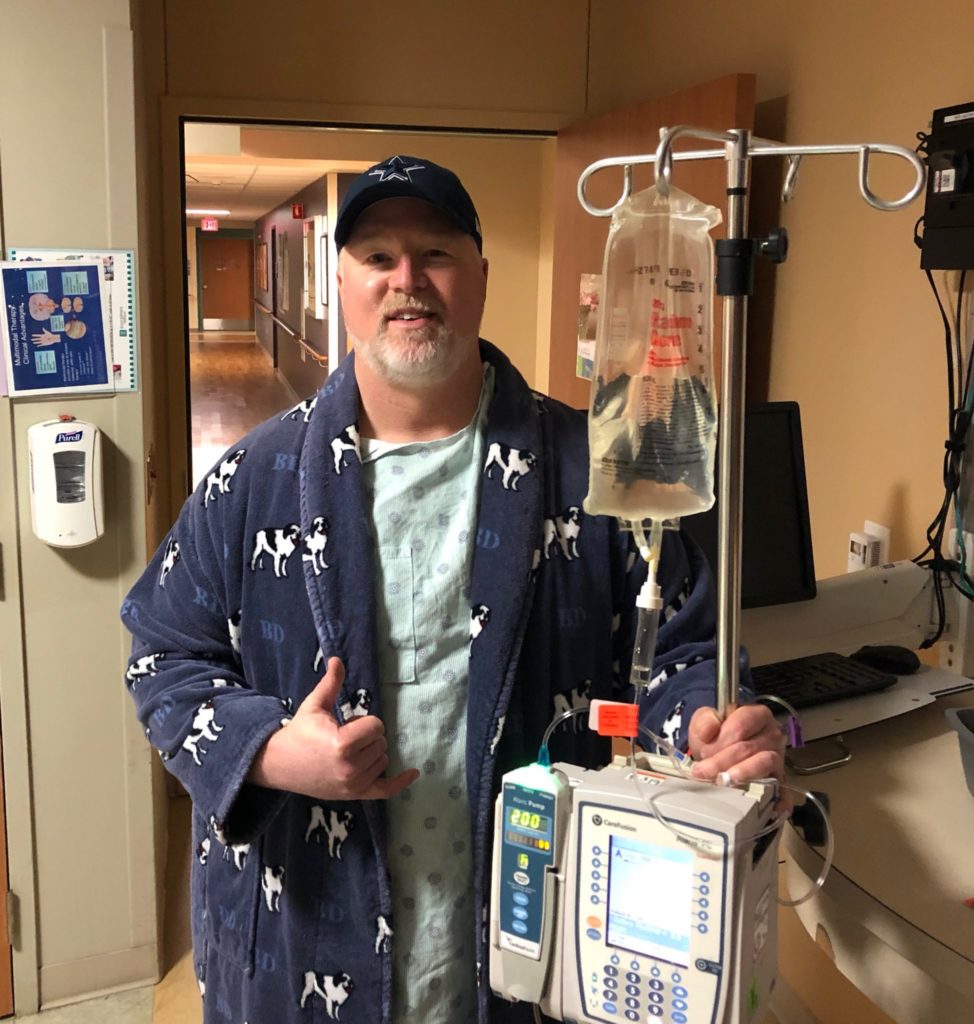 During the past number of months, I've learned the science of what causes a body to hang on to excess weight & to say "I'm hungry" even when it's not. The hormonal battle is something I could relate to and having scientific evidence and spiritual peace made moving forward with the surgery the obvious choice.
Post-Op Day (POD) 1
John
I woke at my usual 4:30 am. Normally, this would be the time that I'd hit the elliptical if I were at home, so I got up at started making the rounds in the hospital hallways. The competition for hallway space to walk at my pace was not impeded at this hour of the morning. The belly was sore and there was a lot of sub-cutaneous edema, but it felt about the same as having done a very intense abdominal work-out the day before. As my kidneys were functioning well, my fluid intake was good, and I was having no significant nausea, after the surgical residents came in to examine my abdomen they indicated that they would get the papers ready for discharge once my attending surgeon came by for his formal rounds with them. I was discharged to home by 10am and the kind nurses also allowed me the dignity of walking from my hospital room out to the parking lot with my wife instead of the usual wheelchair discharge formality. Upon arriving home, I spent the remainder of the day drinking clear liquids and getting up to walk on a regular interval. I was still fatigued, so I also napped intermittently for most of day between walks and reading.
Suzi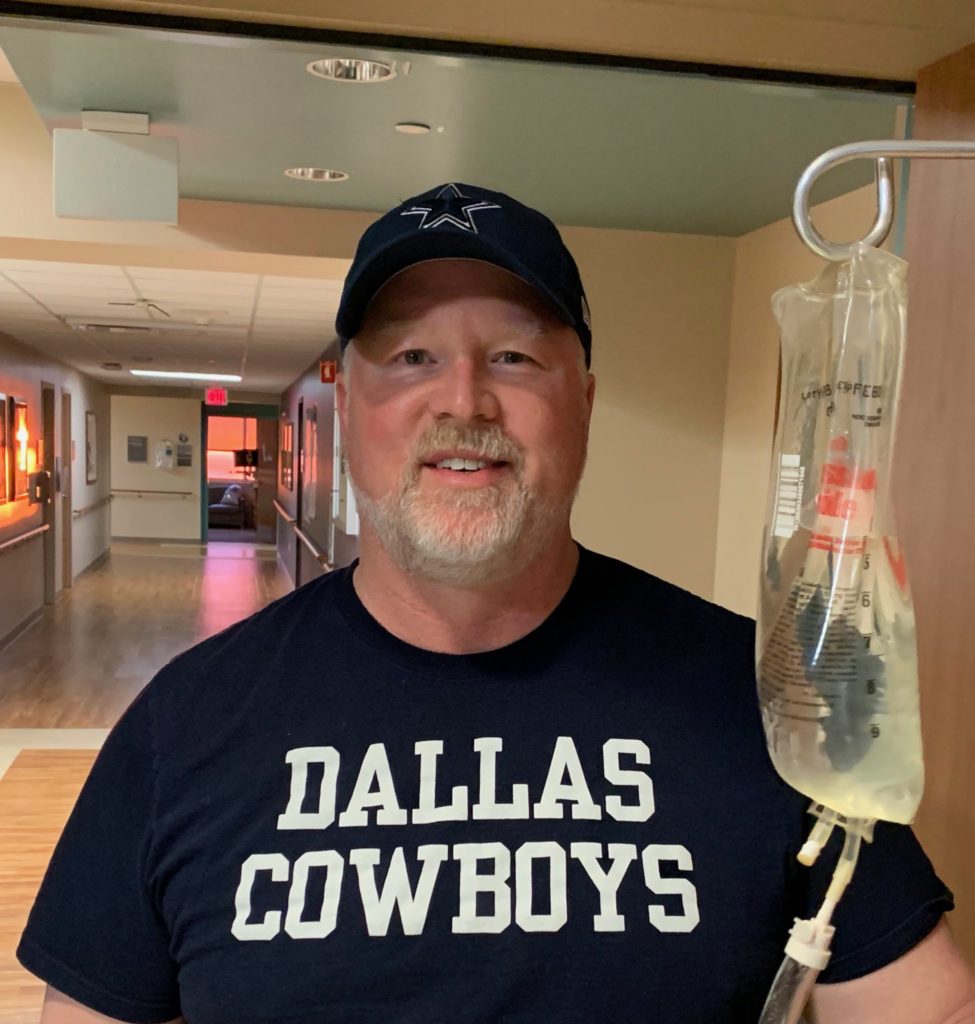 I had felt guilty going home the night after John's surgery, but I knew I needed to get some rest to be ready for what I expected to be a tough few days. I walked into John's room at 6am to find he wasn't there! His bags were neatly packed and ready to go, and after a while, he walked in from the hallway – fully dressed and all smiles. We were home by 10am and John spent the rest of the day sipping clear liquids and walking. My nature is to be very nurturing and I expected to be "on-duty" but John stayed on the move. There was really not much I could do, other than stay out of the way. He seemed to feel just fine except for the few times he tried to move too quickly & was "reminded" of his several incisions. Even then, what pain he had just came and went. I suppose for someone who has endured major injury, previous surgeries, and long bouts of healing, this surgery was really not that big of a deal to him.
POD2
John
By this time, Suzi was already having to get on me for answering work emails and making phone calls related to work. Also, by this point, my main nutritive sustenance had changed to protein shakes, sugar-free Jell-O, and broth. The really interesting thing was that I was not feeling hungry- I was only "eating" because that was my duty in the post-op state to get the needed protein to heal and strengthen. We also ramped up the walking taking our not-so-good-on-a-leash Bull Terrier on several spins around the block. The abdominal pain was still enough that I did take a few doses of pain meds on POD2, but I used less than what was prescribed. The biggest concern that I'd had going into surgery was that of nausea- which I have had none of to this point.
Suzi
My Post-Operative Day 2 contribution: I made Jell-O and went with John on a number of walks around the neighborhood. John stayed in charge of his meds, shakes and incentive spirometer schedule. I just got to hang out with him. It feels like a "stay-cation". I did cook for myself for the first time and felt very guilty, but I needed some real food – especially vegetables. John insisted he wasn't tempted or hungry even though he did comment, "Smells good!" We ended up going to a late movie – and survived walking past the concessions counter. Popcorn and Diet Coke have been automatic for the past 34 years, so I felt like that was an accomplishment.
POD3
John
A bit of a nervous stomach this day- not due to surgery, but due to the Divisional Rounds of the NFL playoffs and my Dallas Cowboys having to face a tough opponent away and because a small ranch that my wife and I had put a bid on and lost several months earlier was back on the market. We ran multiple errands during the course of the day, did more walking, and then settled in for some football. The game did not turn out my way, but during the course of the game, our realtor called to announce that the ranch owners had accepted our bid without counter! We will definitely write about this later…
Suzi
Day 3, my doting tendencies were not needed. John didn't need a nurse, just a better outcome to the Cowboys game. That was a tough one. Even I had a stomach ache. In all seriousness, John is doing great. His attitude, his compliance to post-op instructions and his apparent lack of discomfort are all excellent news to me. Based upon others' first-hand experiences, I certainly was expecting a much more difficult first few days.
John's biggest Bariatric Surgery observations to this point are:
No nausea in my case
Pain, but bearable and requiring less pain meds than what was prescribed
No hunger: eating/drinking out of duty/necessity
Boredom with protein drinks
Time consuming significant task taking meds, vitamins, required supplements which are made more complex due to the small size of the stomach (have to crush pills or break in half to take only ½ every 15 minutes)
There are a lot of "snake-oil" salesmen who want to sell you a fly by night plan when one discusses weight loss plans on a public blog!
Choose a Bariatrics Program that has an integrated, multi-disciplinary team approach to care and that does not end it's responsibility to partnering with you after the surgery is over.